Advancing Science with Fluid Systems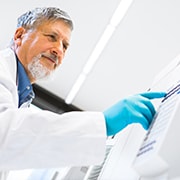 Research and development is the generation of new knowledge and oftentimes of innovation as well. It is an activity that companies undertake in order to develop new products, processes or services, or improve those that already exist. Risk is often involved in the process, but it does not have to be. Your research already demands your full attention—fluid system leaks shouldn't be part of the equation. Rather than spend your resources on designing, sourcing, building, and testing an assembly, you could leave it to our experienced fluid system specialists. We offer you convenient access to a global network of engineers, technicians, and other professionals ready to support your project from concept to completion.
There are many ways Swagelok acts as an extension of your laboratory, engineering, or research and development team, including:
Focusing on manufacturing quality and extreme precision that have supported both public and private R&D efforts and institutions for decades
Offering a wide array of products designed to help you deliver fluids from source to point of use, safely and accurately, with minimal waste and inefficiency
Providing access to experts who can support you at every step in the process and who understand your technical and business requirements for achieving optimal results
From high-pressure to ultra-high vacuum applications, you can rely on Swagelok for the fluid system expertise that keeps your operation safely on the path to the best outcomes so that your idea goes to market faster.
Applications
Swagelok Minnesota | North Dakota | Appleton supports R&D across industrial market sectors and assists research labs, university groups, facilities management teams, and architectural firms in reaching their goals. As a resource for those who strive for process excellence, we can assist you with an array of fluid system application needs including for:
Autoclaves
Catalytic reactions
Centrifuges
Chemical synthesis
Chemical vapor deposition (CVD)
Fermenters
Gas chromatography equipment
Gas distribution/delivery systems
Gas reactors
General lab equipment
Heat exchangers
Hydrogenation reactors
Incubators
Lab instrumentation
Oil modular skids
Pilot plants
Polymer chemistry
Purification panels
Solvent lines
Solvent filling stations
Test rigs
Vacuum systems
Water electrolysis
Products
Many R&D facilities find value in our products that help them meet stringent industry and customer requirements. We consider your total cost of ownership for every component or assembly we design and build. And we're proud to bring you more fluid system solutions supported by a Limited Lifetime Warranty.
Engineering Services
Labs and research facilities across every industry are facing the same pressures, from increasing safety regulations to an overall loss of fluid system knowledge. This skills gap, coupled with pressure to grow profits, has many organizations looking for ways to train employees and streamline systems. Take advantage of the expertise that our engineering services provide.