Configurable, Local, and Reliable Grab Sampling Solutions
Grab sampling involves extracting a sample from a process, in real time, and bringing it back to a lab to either confirm or diagnose an issue with the actual processing unit. Poor sampling system design can lead to unrepresentative samples, unsafe conditions, and unnecessary maintenance. As a leading global provider of high-quality fluid system products and services we are uniquely capable of providing you with safe and easy to operate grab sampling solutions.
Swagelok has developed a wide range of grab sampling panels to address your needs for:
Swagelok® Grab Sampling Panel Solutions
Swagelok offers two types of grab sampling systems: Swagelok® grab sample module (GSM) and Swagelok® sample liquid systems (GSL). The panels can be ordered as a single part number and are available in a variety of configurations and advanced features. Consider the benefits of these grab sampling panels:
Designed and built with the reliable components you trust from Swagelok
Local, factory-certified experts for local fabrication and support
Versatile mounting options for easier installation
Standard sample systems can be configured using a part number table for simplified ordering
Additional instrumentation is available, including gauges, meters and flow indicators
Backed by the Swagelok Limited Lifetime Warranty
Grab Sample Module
The Swagelok grab sample module (GSM) is a sampling panel that uses sealed, metal, pressure-containing cylinders to capture either liquid or gas.
The continuous flow configurations allow the sample transport lines to continue flowing while sampling
The GSM left in the bypass or sample position indefinitely keeps transport lines fresh and ready for sample capture
A grab sampling cylinder (GSC) is docked, and process fluid is continuously circulated within to maintain process conditions


Grab Sample Liquid Systems
The Swagelok grab sample liquid (GSL) is a liquid-only sampling system for drawing fluid in a non-pressure containing bottle with a self-sealing septum cap.
The GSL can use lower-cost glass or polyethylene laboratory bottles to draw and store samples
Using bottles can provide immediate feedback on the visual quality of the sample stream
Samples can be drawn and transported without the risk of spillage or evaporation


This white paper further explains grab sampling and explores best practices for a successful system.
Learn how to control costs and reduce errors in liquid grab sampling.
View our wide selection of sample cylinders that meet DOT, Transport Canada, and TPED standards.
Local Capability for Customizing to Your Specifications
Regardless of which type of grab sampling system you need, we can provide you with accurate, safe grab sample systems customized to your specifications. Customizing will include:
Assessment of your current system
A panel recommendation to meet your needs
Configuring our standard panel to your specifications
Assembly and testing of the new system
Training your technicians
Find everything you need to know about our customization process in our free
Swagelok Grab Sampling Systems brochure
.

Our systems can include a variety of accessories to suit your operations including:
Instrumentation
Sample coolers
Automation
Exotic alloys
Enclosures with heating options
Different mounting options
Don't know what you need? Our evaluation is quick and easy. We'll work closely with you to determine the type of enclosure or panel and the proper configuration to meet your sampling needs. During this process, our team of experienced fluid system specialists can provide the following:
An evaluation of your current sampling system and assessment of your needs
A thorough analysis conducted by our field engineering team to detect and fix sampling deficiencies
Suggestions for improved operational performance
Mitigation of potential safety and environmental concerns
A sample enclosure or panel recommendation based on needs for: temperature, pressure, phase, container type, materials, and installation location
Let us help you determine the right configuration for your sampling needs.


Learn more about our grab sampling customization process:


Designed for Safety, Ease of Use, and Reliability
Safety is an extremely important consideration when selecting a grab sampling system. Grab sampling often involves chemicals that could cause major issues if not handled properly. Our systems are designed specifically with a focus on protecting the operator during each grab sampling interaction. As a result, we deliver grab sampling systems that are also easier to use and more reliable. Turn to Swagelok for grab sampling systems that can address all of your needs because they include:
Trusted, high-quality Swagelok components that reduce leak points
Easy to follow and accessible instructions
Protection from overfilling and overpressure
Safety features to decrease operator error
Innovative design to deliver reliable, representative samples
Discover what makes our grab sampling panels safe, easy to operate, and reliable:


Training for Grab Sampling System Success
Having well-trained grab sampling technicians is important to operating and maintaining your systems. While we will train your team on how to operate any new system once the panels are assembled, we also offer additional training classes.
Consider enabling your team to better prevent, diagnose, and eliminate costly issues with these local, hands-on grab sampling training classes taught by industry experts:
Our Sampling System Training can help you design effective sampling systems, diagnose, and eliminate existing issues so you can increase efficiency and save money.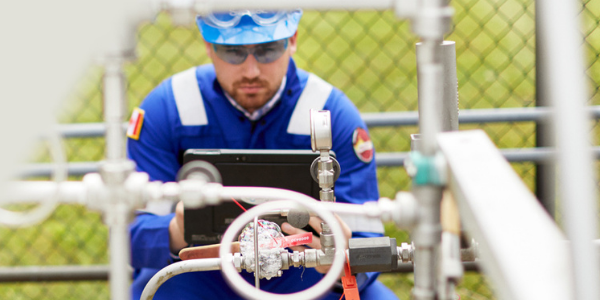 If you're short on manpower, Swagelok can provide an extra set of hands by building your fluid system assemblies for you through our Design and Assembly Services.
Grab Sampling Systems Inquiry